12 - 14 December
2017
Divani Caravel
Hotel
We should like to invite you to the premium congress in the fields of health policy & services, with an important impact to health policy in Greece.
The 13th Congress on Management, Economics and Health Policy is organised by the Department of Health Economics, National School of Public Health, in collaboration with the Hellenic Society of Health Economics and Policy (EEEOPY). Therefore, we should like to invite all of you, healthcare sector agencies, health professionals, economics and social sciences specialists, public sector officials, scientific associations, and academia members, to participate in the Conference and contribute to the introduction, the discussion and formulation of views on healthcare reform at the 13th Congress.
Congress Themes & Topics
Adult and children vaccination
Integrated management of major health risk factors
Screening
Prioritising needs and choices in health economics and policy
The necessity of public health services and prevention medicine
Priority of choices in cancer management
The Right in Health and Healthcare
Primary Healthcare
Referral system in Primary Healthcare and freedom of choice for the user: satisfaction and cost
Hospital care
Managing biomedical and pharmaceutical technology: innovation and efficient use of resources
Health technology assessment on the basis of outcomes and added health value
Adapting assessment and reimbursement systems to health high tech
Reimbursement methods and techniques in medical, pharmaceutical, and hospital care
Debate PEF-PIF-SFEE: Original or generic drugs?
Demographics and Growth
Active healthy ageing
Long-term care (ageing, chronic diseases, dementia) (International Longevity Center)
Allocating expenditure within the healthcare system
Public health policy and economics
Growth policies and investment priorities in the health sector
Redefining relations among health professions
Public and private insurance complementarity
Freedom of the individual & personal choice in insurance
Social security contributions, taxation and tax incentives for the use of healthcare services
Sin taxes - "virtue" taxes
Incentives and counter-incentives in healthcare services use
Political and economic dimensions of Rheumatoid Arthritis
Pharmaceutical Innovation: Biosimilars
Medical Protocols: Modifications based on pharmaceutical innovation
"Health and Well-being", 2001-2016: Survey Results
Pharmacoepidemiology and Pharmacoeconomics
Big Data: growth tool and reform gateway for the healthcare sector reform
Official Language
The official language of the Congress will be Greek. There will be English to Greek interpretation & vice-versa for the sessions with foreign guest speakers.
Exhibition
There will be an on-site trade exhibition where healthcare organisations and companies from the fields of health, insurance and publishing will be represented.
Congress Venue
Divani Caravel Hotel, Leoforos Vasileos Alexandrou 2, 161 21, Athens, Greece
How to get here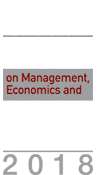 13th Panhellenic Congress on Management, Economics and Health Policy
Complementarity and synergies in health: overcoming the 'segmented' medical care
Take a look back at the 12th Congress: